8-year-old boy rescues his classmate, 7, during choking fit
An 8-year-old boy came to his classmate's rescue after she started choking on a candy. During a Valentine's Day party, 7-year-old Makayla Annis was laughing so hard, she got a gummy bear stuck in her throat.
Her classmate, Andrew Ramirez sprang into action when he saw Makayla struggling to breathe.
"I saw Makayla choking, grabbing her neck and I quickly gave her the Heimlich maneuver," the second-grader told KFSN.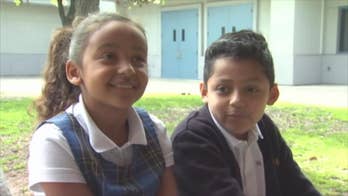 When Andrew's father, a physician, first heard about the incident, he was in disbelief that his son knew what to do.
But it was the emergency room doctor from Fresno, Calif. who actually taught his son about the maneuver.
The little boy explained to KFSN, "If they're choking you get them right about here and you just push back like you're giving them a really big hug." The 8-year old further added, "If she turned blue she would have to go to the hospital too so I didn't want that to happen."
"I was very surprised. This young gentleman helped me," the choking victim, Makayla, said about her classmate.
It's no surprise that Andrew wants to follow in his father's footsteps.
"I would like to be a doctor very, very much," said Andrew.
The second-grader's father, who works at Fresno's Community Regional Medical Center, told the news station, "I did let him know if he is to be an emergency doctor, he got his first save."