Colorado bear reportedly tears apart man's truck interior
The interior of a Colorado man's truck was reportedly torn apart on Friday night after a large bear managed to get inside.
Jim Bay recalled hearing a sounding car alarm before going outside to check on his Ford F-150 and soon discovered the animal, he told Fox 31 Denver.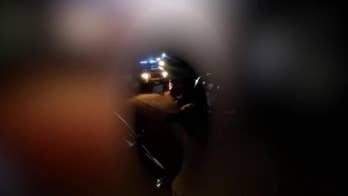 Bay told the outlet that he "opened the door to the truck and there was a large bear."
"After I hastily left and we watched from the upstairs window, my family and I noticed the truck just rocking back and forth," he said. "It was, it was really upsetting here."
The bear reportedly managed to get into the truck by opening the door and ripped apart its seats and roof lining, among other things.
"I should know better but I left the doors unlocked to the truck and I had the gall to leave a pack of gum in the console," he told the outlet.
The Jefferson County Sheriff's Office was called to the scene, Fox 31 reported, and Bay said "they rigged up a rope and a pulley to open the door from the garage."
With that system in place, Bay said they were able to open the car door, after which the bear "took off."