Dating website eHarmony's 'scientific' match ad banned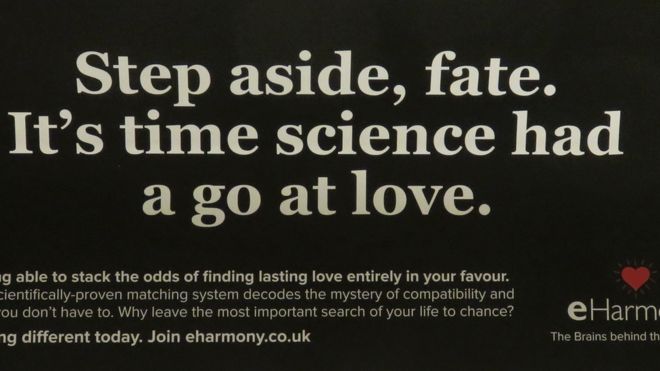 A dating website's claim that it used a "scientifically proven matching system" to pair up those looking for love has been banned.
An advert for eHarmony on the London Underground in July read: "It's time science had a go at love".
The Advertising Standards Authority (ASA) called the claim "misleading".
The online matchmaker said while it "respectfully disagrees" with the ruling, it would make its advertising "as clear as possible".
The firm had argued that its matching system was scientific and could provide an advantage in finding a compatible partner over a chance-based system or meeting.
It said that consumers would not interpret the ad to mean it was a guarantee that they would find a long-term relationship.
It uses an algorithm to match couples, based on data collected from more than 50,000 married people in 23 different countries.
Those wishing to find love complete lengthy relationship questionnaires to determine their personality traits, values and interests. They are matched with users whose responses complement their own.
As part of its evidence in the dispute, eHarmony also submitted two published studies which reported higher levels of marital satisfaction for couples who met through the website.
But the ASA dismissed the studies, saying one sample was not random or representative because it was taken from a pool of couples who had proactively informed eHarmony of their engagement or marriage after the firm encouraged and incentivised them to do so.
"Because the evidence provided by eHarmony did not demonstrate that their matching system offered users a significantly greater chance of finding lasting love than what could be achieved if they didn't use the service, we concluded that the claim 'scientifically proven matching system' was misleading," the ASA ruling read.
'Crude puffery'
Romain Bertrand, managing director at eHarmony UK, said the service was conceived on the premise that "science and research could be harnessed to help people find love".
"For over 17 years, eHarmony has been matching singles into high-quality, long-lasting relationships based upon sophisticated matching standards designed by PhD psychologists," he said.
"Although we respectfully disagree with the ASA's findings, we are happy to work with them to assure that our advertising is as clear as possible," he added.
The initial complaint was lodged by Lord Lipsey, the joint chairman of the All Party Parliamentary Group on Statistics and a former member of the ASA council.
He said the phrase 'scientifically proven' should only be used in claims that are "just that" and not "crude puffery designed to lure in those longing for love".
"This is a new form of fake news which the ASA has rightly slapped down," he added.