From The Dressing Table Of… Gemma Chan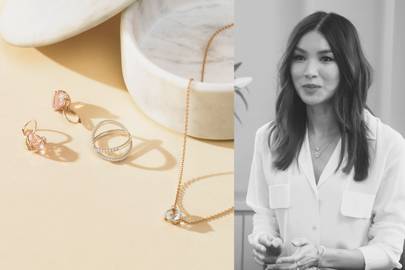 The dressing table is never more important in the art of getting ready than when placed in front of an actress. Whether surrounded by lights in a storied theatre or a little more makeshift on a far-flung set, it's a place where transformation thrives. British actress Gemma Chan concurs: "The dressing table is such a key space. Whether you're getting ready for the day – or, for me, if I'm getting ready to go on stage in character – it's that moment when you can sit, prepare, be calm and get ready. It's important to make it feel your own and surround yourself with things that you love, things that remind you of places you've been or a certain person. It's that energy that you take before you go on to face the day."
Few things inspire or personalise a dressing table more than jewellery. On Chan's currently falls Bucherer Fine Jewellery's feminine and whimsical Peekaboo collection, scattered and collecting light, waiting patiently to be worn once the final curtain comes down.
Jewellery itself can have the most transformative powers, too. While there is no thrill or excitement to compare to wearing a new piece for the first time (the Vogue pick right now is a pair of Lacrima pendant pearl-and-diamond earrings), think of how returning to an old favourite or family heirloom can induce nostalgia and an extra sense of confidence. For Chan, it's these pieces that hold the sentimental slots on her dressing table. Stones passed down through generations share space with new, contemporary pieces waiting for their very own stories. The mix makes for an authentic finish.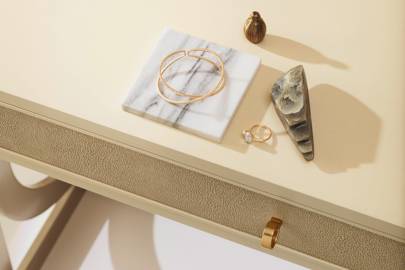 Since 1888, Bucherer's unique approach to luxury jewellery has been at the forefront of transforming contemporary women. Jewellery is the final crucial step in the dressing process, and the brand's unmistakable designs continue to slot in the wardrobes of minimalists and maximalists the world over.
Now available at Selfridges' Wonder Room, its collection – which ranges from Daily Treasures to bespoke, one-of-a-kind pieces crafted for you, with the help of highly skilled jewellers – has all the coveted pieces to lust for this year. Head there now to see Bucherer's intelligent approach to stones and craftsmanship hold its own.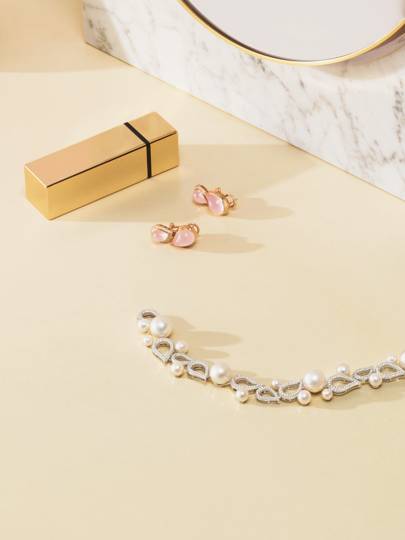 Of course, transformations aren't a once-a-day occasion. Every woman is a thousand women, and jewellery should reflect this. Bucherer's designs are made to be both standout and subtle all at once. They seamlessly interweave the everyday and the extraordinary. Colourful stones will bode well with the spring collections' penchant for the feminine, while a white gold and diamond bangle, slowly revealed from behind a statement jacket, is irresistible for both night and day.
If you find yourself sitting at your dressing table someday soon and feel like something is missing, the answer is probably a little Bucherer.