Morocco World Cup bid masks homosexuality ban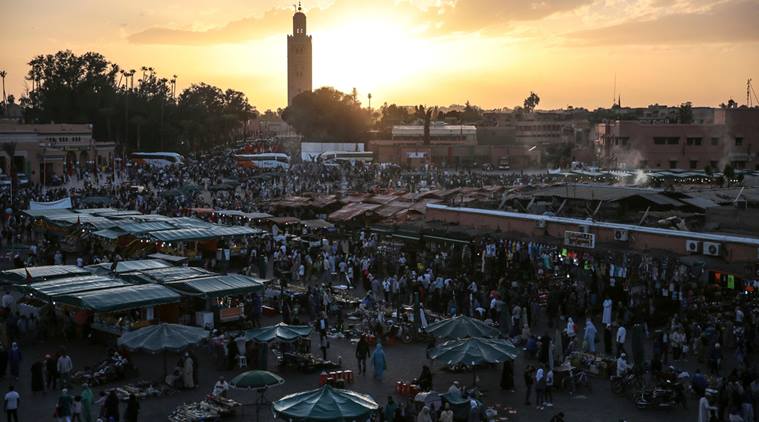 A FIFA task force arrived in Morocco on Monday to inspect a World Cup bid that obscures one potential impediment to hosting the 2026 football showpiece: Homosexuality is a criminal offense in the north African country.
An Associated Press review of 483 pages of documents submitted to FIFA found Morocco failed to declare its anti-LGBT law as a risk factor and provide a remedy, appearing to flout stringent new bidding requirements.
"Morocco's human rights report presented to the FIFA is an intentional silence on an issue that Morocco knows too well is a crime on its soil," Ahmed El Haij, president of the Moroccan Association for Human Rights, told the AP.
"It is evident that if Morocco was to host the World Cup, LGBT people coming to watch the games will face a lot of discrimination. The state will not be able to protect them nor will it be able to commit in preventing measures that could be taken against them by both the state and society."
Under Article 489 of the Moroccan penal code, sexual acts between people of the same sex are punishable by six months to three years in prison.
While World Cup hosts could previously largely shake off concerns from activists, FIFA has demonstrated a growing awareness in recent years of how rights abuses can impact its events.
World Cups must be in environments free of "discrimination based on sexual orientation," FIFA Secretary General Fatma Samoura wrote to activists last year discussing the forthcoming tournament in Russia. Samoura's letter reflected a policy incorporated into world football statutes in 2013 as scrutiny of human rights mounted in Russia and 2022 World Cup host Qatar.
"Under the new nondiscrimination requirements under FIFA's statutes and under the Human Rights Policy, one of the red lines is anti-gay activity, laws or policies," Human Rights Watch director of global initiatives Minky Worden told the AP.
"Morocco, if they're serious about winning, would need to be prepared to repeal the article of the penal code which punishes people for being gay," she added.
Unlike when Russia and Qatar emerged victorious in the 2018-2022 FIFA bidding contest eight years ago, prospective hosts for the 2026 tournament were mandated to commission independent human rights reports and provide frank risk assessments that form part of the task force's evaluation. A bid that scores too low based on technical criteria or fails to meet the tournament requirements can be disqualified by the FIFA Council before football nations vote on the 2026 host on June 13.
While the United States-Canada-Mexico bid chose to publish its human rights documents, Morocco repeatedly refused requests from the AP to match the disclosure. The Morocco bid's international communications team also declined to provide any LGBT policy or how the criminalization of same-sex relations would be addressed during a potential World Cup.
The AP was provided with the human rights annexes to Morocco's bid book by FIFA only after highlighting the north African nation's lack of transparency to the football world and the up to 207 member nations who will vote in Moscow.
There is a solitary passing reference to LGBT rights in the main 381-page bid book: A narrowly worded pledge by the Moroccan football federation to "work to combat all forms of discrimination" including "sexual orientation," signed by its president, Fouzi Lekjaa.
There is no mention of homosexuality being a criminal offense in the bid book, nor in the 27-page executive page executive summary.
Significantly, it is also omitted from the 33-page human rights strategy in which bids were told by FIFA to own up to "adverse impacts" and provide mechanisms to address them. The equivalent 90-page document from the rival North American bid features 20 mentions of "LGBTQI+" and eight references to "sexual orientation," pledging to use their leverage to reduce the risk of discrimination and harassment in Mexico and the U.S. in particular.
"It trips you up in a bid like this because then you are submitting documents that don't accurately reflect the human rights situation in your own country," Worden said. "And you have missed an opportunity to engage the stakeholders who will come back to criticize you if you don't uphold international human rights."
Morocco's only acknowledgement that homosexuality is outlawed comes within one sentence in a 42-page _ nominally independent _ "study on the human rights situation."
Even then, the reference is ambiguous and implies the law might no longer be in place.
The study cites the United Nations Human Rights Council's "Universal Periodic Review " of the country, stating "Morocco took note of forty-four recommendations," includi