REPORT: MERCEDES-MAYBACH SUV DUE IN 2019
Mercedes released a teaser last week for what appeared to be a Maybach SUV. Speaking with unnamed sources from Mercedes, Autocar confirmed everyone's suspicions, reporting that the automaker will unveil a near-ready concept at the Beijing auto show before rolling out the final production version later this year.
The new SUV will debut in production form at the Los Angeles auto show in November. Sales of the new model will begin in 2019, Autocar reports, when it will take on a price tag of £120,000 (roughly $171,800 at today's exchange rates).
Just like the current Mercedes-Maybach sedan is based on the S-Class, the Maybach SUV will sit on the same platform as the new GLS. This platform, also expected to underpin the new GLE, will support a 48-volt mild hybrid setup. Expect the Mercedes-Maybach SUV to feature some kind of autonomous driving functions.
Watch 2018 Mercedes-AMG GT R Hot Lap! – 2017 Best Driver's Car Contender
"We have been quietly surprised by the sales success of the Mercedes-Maybach S-Class, which is proving extremely popular in many key markets," a Mercedes official told Autocar. "The plan now is to extend the exclusivity surrounding the Maybach name into the upper end of the SUV segment. We're confident that this new model will leave little to be desired in terms of luxury."
The Maybach SUV will receive unique visual cues to differentiate itself from the GLS. Look for a new grille and a new interior, which Mercedes previewed on social media when teasing the concept SUV. In the video, you'll notice quilted leather, chrome accents, and lots of rear headroom.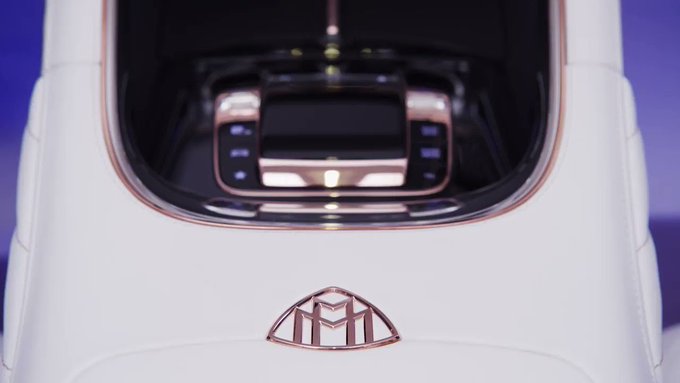 Mercedes-Benz

✔@MercedesBenz

Luxury at its finest. Coming soon.#MercedesBenz #MercedesMaybach #UltimateLuxury #MBcars #MBdesign #AutoChina

648

158 people are talking about this
Twitter Ads info and privacy
Instead of the current 4.7-liter V-8, the new GLS will likely feature a version of Mercedes' twin-turbo 4.0-liter V-8 equipped with cylinder deactivation. Autocar says Mercedes is also discussing a plug-in version that takes the 3.0-liter inline-six and electric motor hybrid setup in the S560e.
The Mercedes-Maybach SUV will challenge a fast growing group of ultra-lux SUVs including the Bentley Bentayga, Lamborghini Urus, and Rolls-Royce Cullinan. We should learn more about the model at the Beijing auto show which begins April 25.