Trapped In An Internet Desert, Detroit Teens Struggle To Stay Online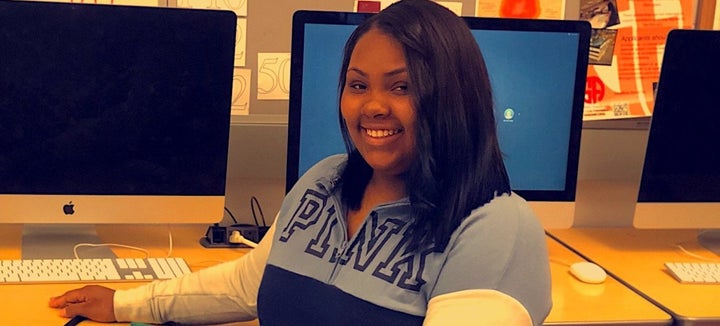 Melanie Rayford, 18, plans to study software engineering when she enters college this fall. It's a notoriously unwelcoming field for women of color, but she's ready for it. Ideas for apps are already popping into her head, like one to streamline route planning for student bus systems.
A few hours each day, in addition to her usual classes at one of the city's top public high schools, Rayford attends an academic and athletic youth program. She's taken several tech-focused workshops at the nonprofit Downtown Boxing Gym, located on a stretch of road where many of the buildings have been torn down and greenery is reclaiming the empty spaces.
In addition to teaching kids proper combat footwork and punching techniques, the gym also offers free programs for academic achievement and career readiness. It's where Rayford learned how to set up a wireless network, take apart a computer and test out a 3-D printer. She was failing math when she started at the gym as a sophomore; a tutor helped pull up her scores.
Rayford still occasionally trains with a boxing coach, but most days she heads straight to the gym's computer lab to do homework or write scholarship essays. With no computer at home and unreliable internet, every minute counts.
If she doesn't finish her schoolwork at the gym, she'll set up shop on a computer at Cass Technical High School, occasionally skipping a class to complete an assignment for another teacher. There are other obstacles: A recent project required Microsoft Word, but the school had stopped paying for the software. So Rayford figured out a workaround, Google Docs, which she now uses to tap out essays on her phone at night.
"Everything is so zoomed in, and it's harder to spell-check and make sure your paragraphs are spaced right," she told HuffPost. "You know what you're doing on a computer, compared to a phone."
Cobbling together computer time frustrates Rayford, but it's an ordinary burden for students in Detroit. The largely African-American city of 675,000 has the lowest rate of internet connection in the country. Nearly 40 percent of households have no home internet and more than 15 percent only have cellular data plans, according to U.S. census estimates. Twenty percent have no computer or smartphone. (Nationwide, 5 million school-age kids don't have internet at home, according to the Pew Research Center.)
Recent research in Detroit indicates that most teens have some kind of access to the internet ― but far fewer have reliable internet and computers at home. Many students have more tenuous connections, relying on schools and libraries to get online, or else hopping on and off public WiFi connections from their mobile phones.
As technology becomes increasingly essential for achievement and employment tasks, advocates worry Detroit's digital divide shuts students out of opportunities they desperately need ― most kids live in poverty, and young adult unemployment is more than double the national rate.
Connectivity is "the gateway to so many pieces of life and the economy that the lack of access to internet is really contributing to many of the disparities that we see in urban areas," said Vernice Anthony, interim chief executive of Focus: Hope. The civil rights nonprofit offers education programs and job training, including information technology certifications.