US markets slip as volatility continues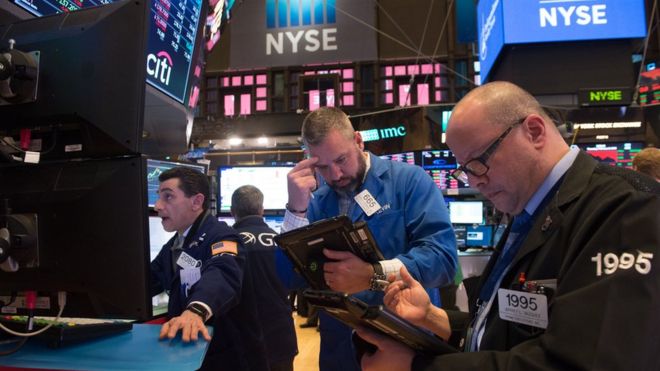 US shares dipped lower on Friday, extending some of the previous session's hefty falls as the volatile week on the markets continued.
The Dow Jones Industrial Average opened higher, but soon went in reverse, down 1.8% at 23,431, while the broader S&P 500 index opened 1% higher before turning negative, also down 1.8%.
Both indexes are set for their worst weekly losses in nine years.
In London, the FTSE 100 index ended the day down 1.1% at 7,092 points.
Other European markets also suffered, with Germany's Dax falling 1.4% and France's Cac 40 shedding 1.25%.
On Thursday, the Dow Jones fell by more than 1,000 points for the second time this week, and Asian markets followed the downward trend, with Japan's Nikkei 225 shares index closing down 2.3%.
The big sell-offs around the world this week have been pinned partly on concerns over the prospect of higher interest rates
Bank of England deputy governor Ben Broadbent told the BBC that markets might have underestimated the prospect of a pick-up in inflation.
"If you look at what happened last year, particularly in the United States but also other equity markets, there was extremely strong growth – big rises in prices – as people gradually realised how strong the global economy was," he said.
"If markets are responding understandably to that growth, it's possible they weren't pricing in the risk that that same growth would produce some inflation and some rises in interest rates, and I think what you're seeing now is the effect of that realisation."
Sue Noffke, UK equities fund manager at Schroders, told the BBC that given how well stock markets have been doing for the past few years, the sell-off this week was not that unusual.
"In the context of the rises we've seen, certainly this kind of pull-back of 5-10% is quite normal for markets – it just hasn't been normal for the last couple of years where we've seen very low levels of volatility and very small levels of weekly or monthly moves.
"The [economic] fundamentals haven't changed, they haven't deteriorated. What's happened is a bit of steam has come out from what was quite a heated situation at the beginning of the year."
Why are markets falling?
The global sell-off began last week after a solid US jobs report fuelled expectations that the Federal Reserve would need to raise interest rates faster than expected, because of the strength of the economy.
That concern has prompted the pullback from stocks.
On Thursday, the Bank of England seemed to offer support for the view that rates in general are on an upward path.
The Bank left interest rates at 0.5% at its meeting, but said a strengthening economy meant interest rates were likely to rise sooner than the markets were expecting.
Also worrying investors was a government budget proposal announced by US lawmakers, which raises spending caps and could fan inflation.
Bond yields in the US have also risen in recent weeks, typically a signal of higher rates.
Higher interest rates push up borrowing costs for companies and individuals, which can hurt corporate profits and curb economic activity.