WARNING, GRAPHIC IMAGES: Train kills four elephants in India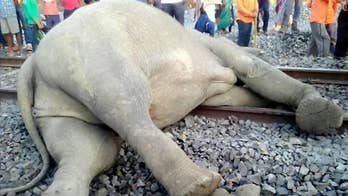 Four elephants, including a young calf, were killed by a train in India on Monday.
The New York Times reports that the herd was crossing tracks when they were hit by a speeding freight train in Eastern India. A bull elephant, two female elephants and a calf were killed, it said.
Photos shows the gruesome aftermath of the collision, with the elephants' lifeless bodies strewn across the tracks.
An official in Odisha State, where the accident occurred, told the New York Times that the train was travelling at 75 mph when it hit the elephants. The speed limit on that stretch of track is about 20 mph, he said.
SWNS reports that the animals were trekking through the Bagedihi forest range when they were struck at an unmanned level crossing at 3.30 a.m. local time. Three cranes were used to remove the bodies from the tracks.
Locals reportedly gathered at the spot to pray and leave floral tributes to the animals, which Hindus believe are a living incarnation god Ganesh.
It is thought that the elephants had trekked about 12 miles from a wildlife reserve.Last year, three elephants, including two calves, lost their lives at the same spot in two separate incidents, according to The Times of India.