Why the next generation of cancer researchers need support if they are to find a cure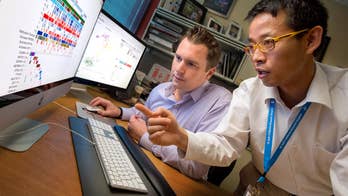 Paul Northcott, a 40-year-old investigator from St. Jude Children's Research Hospital, knows firsthand how early grant money can impact innovative cancer research.
"The type of work we do is very competitive and there's a limited number of funding for young investigators," Northcott, an assistant member in the Department of Developmental Neurobiology at St. Jude, told Fox News.
Early- and mid-career scientists face tougher odds than their more experienced colleagues, which can be discouraging for young, creative minds looking for a chance to fight cancer.
"If we don't fund them, they will leave the field and do something else," John Zhang, the senior director of scientific review and grants administration for the American Association for Cancer Research (AACR), told Fox News. "We need to ensure the continuous supply of great scientists to fight the war on cancer."
Northcott was the one of the first recipients of the AACR NextGen grant for transformative cancer research, a grant mechanism intended to support creative cancer research that may not be funded through conventional channels.
Northcott's research studies the molecular and genetic level of a type of childhood brain cancer called medulloblastoma, the most common malignant brain tumor in children, with five-year survival rates ranging from 30 to 80 percent.
Through his research, Northcott discovered molecular subgroups of medulloblastoma with distinct patient features, outcomes and mutational patterns. These findings changed the way the disease is studied, diagnosed and the way patients are treated, Northcott said.
"There are no clinical compounds or FDA-approved drugs so I think the biggest challenge over the next several years is to take that information that we've gleaned from the genomics era and actually translate that into better treatment options for patients," he said.
The NextGen grant provides young investigators with $450,000 of initial funding for three years so they can embark on scientific experiments that will eventually, and hopefully, impact cancer treatment.