Xbox Games with Gold for January 2018 send you raiding with Lara Croft and Van Helsing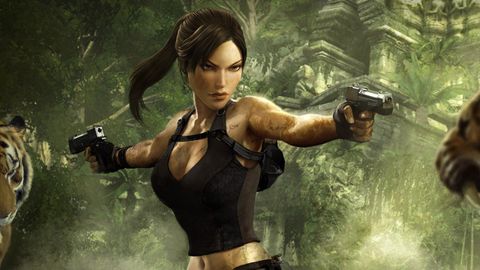 The holiday season is just a warm memory now, but the gifts keep on coming for Xbox Live Gold subscribers. January's selection of Games with Gold titles encompasses solo platforming and survival adventures as well as co-op friendly action experiences. Not to mention some good old fashioned time travel. Here's what you can look forward to downloading for free this month.
Remember: any games you choose to download during their availability period will remain accessible so long as you have an active Xbox Live Gold membership. And don't forget too that any Xbox 360 games made available through Games With Gold are also backwards compatible with Xbox One.
January 2018 free Games With Gold games
The Incredible Adventures of Van Helsing 3 (Xbox One) – Available: January 1 – 31
The concluding chapter of the Van Helsing action RPG trilogy is a fine way to while away the hours killing freaky monsters across gothic Europe. Choose from six playable character classes and level up your slaying talents, and even play through the entire campaign in co-op with up to four players (or try out the PvP mode, which also supports up to four).
Tomb Raider: Underworld (Xbox One / Xbox 360) – Available: January 1 – 15
Before Lara Croft went into full reboot mode in 2013, Tomb Raider: Underworld presented some of the most refined movement and exploration the series had ever seen. If you ever missed Ms. Croft's more exaggerated adventures but didn't want to go all the way back to the clunky days of the '90s originals, this game is just what you're looking for.
Back to the Future: The Game – 30th Anniversary Edition (Xbox One) – Available: December 16 – January 15
Telltale is currently known for its adaptations of The Walking Dead, Batman, and the Fables comics, but once upon a time it also made one of the most beloved '80s films into a playable experience. Enter Back to the Future: The Game, which picks up after the trilogy and presents an all-new adventure for Marty McFly.
Today's best Xbox Live Gold 12 month subscription deals
Zombi (Xbox One) – Available January 16 – February 15
Try to play this first-person zombie survival game like a shooter and you'll quickly become another shambling corpse. Even worse, that corpse will still have all of your stuff on it – and your new character will have to track them down and take them out to get it back. Move quietly, keep your cricket bat close at hand, and maybe you'll make it out of London.
Army of Two (Xbox One /  Xbox 360) – Available: January 16 – 31
Army of Two is an FPS built from the ground-up with two-player co-op in mind. It's playable alone, but it's at its best when you and a buddy are working together and coordinating your attacks. Unfortunately, EA shut down the online servers for this game back in 2011, so you'll need to play in local splitscreen to get the best experience.